Biography
Kirby Jones and other Recording Projects
In the late 1980's I met Kirby Gregory who had been the guitarist in Curved Air and Stretch (who had the hit single Why Did You Do It? at the same time as Climax Blues Band's Couldn't Get It Right). He introduced me to computer music sequencers and in 1991 we made an album material together as Kirby Jones called New Life. The beginning was used for a radio advertisement for the Lake Lucerne Navigation Company.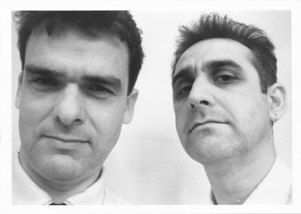 Kirby Jones
Click New Life by Kirby Jones to hear mp3
During the 1980s I had several other musical projects:
Musicals: The Dead Show; Charlie Chaplin
Music for Plays: Caucasian Chalk Circle; The Tempest; The Visit; Le Bourgeois Gentilhomme
Albums: Dances for Girls; Jones
Lake Lucerne Navigation Company promotional video
Click Here to see video
I also produced demos for singers in my home studio.
Copyright © Richard Jones