Biography
Early days: Velvet Chords; Climax Chicago Blues Band
I was born in Stoke On Trent in 1949 and was brought up in Brocton near Stafford. My father taught me the piano from when I was about 4. I formed my first band when I was 14, called The Velvet Chords. I played guitar to begin with, but then changed to bass guitar. The band was Geoff Nicholls (drums), Tony Nicholls (Rhythm Guitar), Dave Burley (Guitar / vocals), Roger Titley (Organ) and RJ on bass guitar and occasional vocals.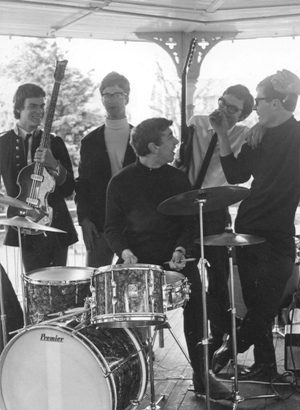 Velvet Chords: RJ, Roger Titley, Geoff Nicholls, Dave Burley, Tony Nicholls c.1967
Occasionally, Pete Haycock would dep on guitar for Dave. Geoff Nicholls, Pete Haycock, Derek Holt and I also had a band called The General Erection.
When Geoff left for university in 1967, I joined a soul band called The Stargazers.
In late 1967, I was asked by Pete Haycock to join the Climax Blues Band on bass guitar. The others in the band were Colin Cooper (vocals / sax / harmonica), Pete Haycock (lead guitar), Derek Holt (rhythm guitar, Arther Wood (keyboards), George Newsome (drums).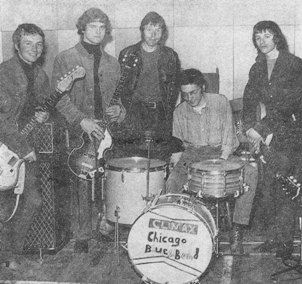 Climax Chicago Blues Band May 1968
Derek Holt, me, Colin Cooper, George Newsome, Pete Haycock
Climax found it very difficult to get gigs. The only way we got regular gigs was to run our own blues clubs. We started with one in Burslem which after a rocky start was packed every week. Within about six months we also had one in Birmingham and one in the Yeoman in Stafford. We were approached by Liberty records who wanted us to make an album. Parlophone showed an interest and asked us to have a recording audition at Abbey Road studios. The producer was Chris Thomas, a protege of George Martin.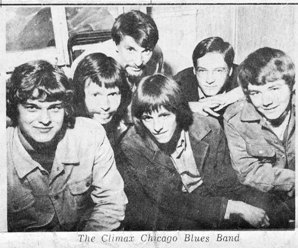 Stafford Advertiser, Thursday August 22nd 1968
Parlophone gave us a contract and we recorded the first album Climax Chicago Blues Band over three days in September and October 1968. The Beatles were recording The White Album at the time, and Paul McCartney came into the studio while we were playing.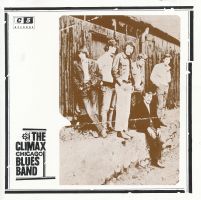 Copyright © Richard Jones